Frequently Asked Questions
Yes! And plenty of it! The Kallet features a curb-side pull-up for private shuttle and hired valet services, or simply to discharge passengers while drivers make their way to any of the lots available within just one block of the theater. From 5pm Friday evening through the weekend, several business-owned and public lots are available for guests of the Kallet. Numbers on the map indicate how many spaces are available in each lot, with green highlighting indicating street parking on either side with no meters. The Kallet itself has an adjoining lot reserved for the VIP's of your event, such as parents and the wedding party, as well as any outside vendors you may choose to hire.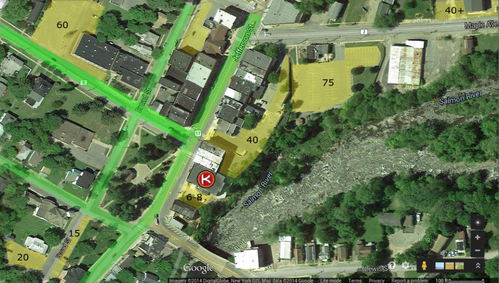 Pulaski is nestled right in the middle between Syracuse and Watertown in beautiful Upstate New York and t There are many gorgeously quaint bed & breakfast nooks conveniently located within minutes of the Kallet! If you prefer more conventional accommodations and would like to arrange shuttle services to and from your event, there's a Holiday Inn Express and a Comfort Suites in Cicero, to the south, or for something closer and more upscale, consider the Tailwater Lodge, the next town over!
If I agree to a tour, is there any sales pressure?
Not in the least. We invite you to explore our entire venue, inside and out. You'll have plenty of opportunity to ask questions about both the Kallet and your wedding. There'll be no sales-talk, gimmicks or pressure to make a spur of the moment decision or a hasty sale.
And if I'm ready to book?
Simply make your reservation! Secure your desired date for just $500 down! And this deposit goes toward whichever package you choose!
How do you handle payments?
We offer you the freedom to set up a flexible payment plan tailored to your needs - whether a bulk payment, portioned out, or in weekly, monthly or quarterly installments. Our box office will send you a reminder the week any payment is due. We accept cash, checks, and all major credit cards, and you'll be given a digital receipt via WeddingWire.com for any and all payments made. The only requirement we impose is that 50% of your package price be paid by the halfway point between your contract signing and your selected event date so we may reserve our staff, prearrange food and bar orders, and rent any additional items we may need to fulfill our commitment to you. Final payment isn't due until 30 days before your event.
Are there any hidden fees or charges?
Your package covers every single service included for the entire time you're using our venue! The price you pay goes toward compensating our amazing staff for their talents and efforts. If you choose to use either our catering or hospitality services, you are charged only for those items you select and a flat rate gratuity for that portion of your bill. The only other charges are for what the state requires us to, which at present is 8% sales tax. Everything else - table and seating rentals, clean linen, matching chair covers, in-stock decorative items, and all other amenities are included in your package price!
What's included with my package?
Every package - from our basic option to over the top - includes a plentiful assortment of bundled amenities. Each service category is unlimited in what it provides. For instance, when you get linens, you get as many as you have tables for! Seating and matching chair covers, the same! If using our kitchen, you get flatware and china for each course and for each guest! You'll find every aspect of the Kallet to be undeniably generous and accommodating! We know it sounds too good to be true, but it is THAT good... AND true! We want you to enjoy unparalleled savings and hospitality, and we know the value of both!
How long does my event last?
For most packages, you'll enjoy unrestricted, unlimited use of our entire venue through 11 p.m., in keeping with village ordinances. All vendor-based services in the package you select run the entire time guests are on premises, without breaks. Hospitality and catering are priced individually according to your needs and last according to what you've selected. Segment-based services, such as for your ceremony, run for the appropriate amount of time and then conclude based on the timeline you develop with our staff. If you've arranged to have your rehearsal as well or need additional time to setup and decorate, such is limited only by events booked the day before, unavoidable inclement weather, and the schedule of our manager. Vocalize your needs early and we'll strive to accommodate!
Do I have to use your people or can I hire someone else?
While you're free to select any vendor(s) you wish, the reason we've contracted staff of our own, and encourage couples to use them, is compelling! Few vendors specialize in serving clients in our uniquely challenging environment, such as photographers and videographers who are used to shooting in natural, well-lit settings, or caterers who are accustomed to their prep kitchens, and DJ's who are unable to account for the echo caused by ultra-high ceilings or a sound-dampened chamber, or don't have the capability to get sound everywhere throughout the venue, such as balcony, deck, lobby and lounge. Our in-house staff has trained to account for all of these factors and when you use them, all the added equipment an outside vendor would have to bring (and charge you for) is already included at no added charge - which brings us to the biggest reason to consider... the savings!

We believe you'd be hard pressed to get more for your money by looking elsewhere. That said, we know that couples sometimes forge trusted relationships with some amazing vendors and we would never want to take that away. So all we ask is that any vendor you choose to hire makes a trip to the Kallet before you select your package so that our manager can acquaint them the challenges they'll encounter while working in our unique space so that no surprises emerge on your wedding day. We also require any vendor to present an official certificate for doing business in New York State, along with proof of insurance. If they are a caterer, they must also provide references of recently catered events and a clear record of approval from the health department.
Do you offer any discounts?
We certainly do... and we don't hold back! When you book your wedding during our off-season or on an off-peak date, the Kallet will extend to you some UNREAL savings! From November 15th through April 1st (off season), we enjoy special rates from our in-house vendors and distributors and we extend that bonus to you - up to 20%! Likewise, if you are open to an intimate weekday wedding (which is now actually trending in the wedding industry) you'll save even more - up to 30% - Sunday through Thursday.) And guess what... the savings is cumulative! Book a weekday winter wedding and we'll give you up to a whopping 50% off! But we're not done! If your finances allow and you wish to pay in full, up front, we'll even extend an additional 5% off your package price! We also offer specials throughout the year to couples attending select regional bridal shows as well as our own quarterly open houses! Call our manager at 315.454.2677 and ask about our current deals!
Can outside food or alcohol be brought in?
While we do not force you to use our in house catering, we are obligated by the New York State Health Department to verify that all food consumed on premises has been prepared by a certified and approved vendor. This is limited to foods prepared off site by an approved kitchen in good standing, such as a restaurant, food truck or other mobile caterer, which must be delivered by their staff into our kitchen with no other parties involved in the preparation, transportation or handling of the food, whether hot or cold. That means food can be ordered from a local establishment and delivered but it cannot be pre-purchased and brought in by clients. Likewise, foods purchased at a supermarket that are bagged or boxed and sealed by the manufacturer, such as chips or pretzels, can be brought in (with permission and by arrangement) and served by our in-house staff.

As for alcohol, and in accordance with the State Liquor Authority, we are under contract with a beverage distributor that forbids the sale or consumption of beverages not directly purchased through our distributor. Therefore, outside beverages cannot be brought in to the Kallet. If you are interested in brands or labels we do not normally stock and carry, we can usually arrange in advance for a supply for one-time private use.
Are there any other restrictions?
The Kallet does not allow the use of any of the following on premises: helium balloons, matches, open flames, fireworks, glitter, smoke bombs, gambling devices, unapproved vendors or third-party staff without prior authorization, references and proof of insurance, alcohol purchased or brought in from anywhere other than the Kallet Theater, food prepared in non-commercial kitchens, food delivered from anywhere other than an insured, known business in good standing and registered with the state health department.
Is there a minimum investment?
The absolute minimum price payable for any event taking place on Kallet grounds, including use of the facility for up to 5 hours with no other services implied or included is $800 plus tax, after all available discounts (if applicable). Otherwise, the minimum investment is for our basic package, currently $2795 plus tax.